Is Sports Betting Legal In Arkansas
Quite simply, yes, sports betting is legal in Arkansas. As a resident of the Razorback State, you could be forgiven for feeling like you're overlooked a lot of the time. As a state buried right in the middle of the southern heartland, it's hard to get a lot of attention, but anyone who's spent any time in Arkansas will tell you that there is hardly any other sports culture in America that bleeds quite as hard for their sports team. In fact, you need to look no further than the passion people tend to feel for the Arkansas Razorbacks to see exactly what we mean. It stands to reason then that Arkansas residents have several questions when it comes to sports betting.
The first question and one of the most important to understand right off the bat is that it is not punishable by law to bet on sports in Arkansas. One of the first things to stop many residents who wish to take up sports betting in Arkansas is the thought that they can be legally prosecuted for doing so. Fortunately, this is not true. The only thing you can be prosecuted for in Arkansas when it comes to sports betting is in its facilitation. This basically means that anyone who can stand to make a profit off of sports betting without actually placing any wagers (bookies, business owners, etc.) can be indicted, but honest citizens who merely participate in sports betting are safe. The only entities that can offer sports betting are the four racinos in the state that were approved to do so through a voter referendum.
Land-Based Sports Betting in Arkansas:
Land-based sports betting in Arkansas has launched at Oaklawn Racing Casino Resort which sits just a short drive away from Little Rock. The next gaming facility that began to offer sports betting in Arkansas is Southland Casino Racing which is located in West Memphis. The proposed gaming facilities in Jefferson and Pope counties were also approved of sports betting but only the one in Jefferson County has launched. The Pope county location has had trouble launching due to disagreements within the local community. In the meantime, the other three locations will be happy to have a monopoly over the Arkansas sports betting industry. The venue welcomes the public and offers betting lines on teams located all across the country.
Legal Online Sports Betting in Arkansas:
Luckily, Arkansas residents don't have to travel to a land-based sportsbook if it is too far of a drive. Legal online sports betting in Arkansas does exist when using the right sites. Since many of these online sportsbooks are based overseas, they do not fall under those same laws and jurisdictions that domestic online sportsbooks do. And because they are legitimate businesses that have been operating for over a decade in most instances, they are as safe a place to put your money as any online retail outlet, like Amazon or eBay.
In addition to offering a legitimate and safe way to bet on sports, many online sportsbooks offer exceptional customer service you simply will not find in land-based alternatives. Arkansas has tried to regulate online sportsbooks of their own through various bills introduced in the state legislature. The latest effort came in 2021 with AR HB 1942. This bill was introduced with only
10 days left in the session so there was not enough time for lawmakers to vet through it. There is hope that another bill similar to it will be introduced in the future.
Bovada Sportsbook - Mobile Apps Which Allows You Full Betting Access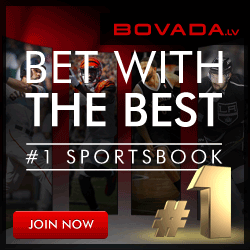 One great example of an online sportsbook that will not only accept but provide excellent service to Arkansas residents is Bovada. The entire Bovada network has become synonymous with sports betting, endorsed by major news outlets such as CBS Sports and USA Today who now cite the prestigious Bovada network over land-based sportsbooks in Las Vegas when it comes time to report on betting odds. With all these major endorsements, it would be easy for Bovada to lean back on their haunches and rely on their pristine reputation and constantly updated set of betting lines to lure customers in, but Bovada is constantly evolving and willing to go the extra step.
Bovada has recently made their mobile app available to account holders, meaning that you can now bet on sports with ease of your smartphone. Place a bet, make a deposit, or request a payout all from anywhere you can receive an internet signal. The new mobile app is just one small example of Bovada going through great lengths to make sure their service stays ahead of the curve and they are constantly evolving in a growing market.
Top Arkansas Sports Betting Sites
Rank
Online Sportsbooks
Bonuses Offered
Rating
US Players?
Play Now!





What's The Bottom Line? Will I Get In Trouble For Betting On Sports?
Now that you know betting on sports is safe and legal, nothing can stop you from taking part in the hobby if you choose. In fact, it may make the next Razorback bowl game even more exciting. If you want to start placing bets on sport events, don't hesitate, open an account today!